Frequently Asked Questions
Who are you and where are you based?
We are a team of manufacturing Jewellers based in Southampton, UK. Between us we have over 100 years of jewellery manufacturing experience. Using the most up to date technology such as 3D scanning, 3D printing and computer design coupled with traditional skills we pride ourselves as being shaped ring specialists.
How can you guarantee a perfect fit if I don't need to send you my engagement ring?
At shapedrings.com we have developed a unique technique of sending you a very easy to use kit that enables you to take an impression of your engagement ring in the comfort of your own home. The process takes less than 10 minutes and you simply post the impression to us in the pre-paid envelope which we then use to manufacture your shaped ring. For extra peace of mind, computer design images are emailed to you for you to approve the design of your shaped ring sat next to a replica of your actual engagement ring. Providing you are happy with the computer design images we will 3D print a physical version of your shaped ring which is posted to you to place next to your engagement ring to ensure the fit is correct.
Nothing is put into final manufacture until you have confirmed you are 100% happy with the design of the 3D printed version of your ring. If there is anything you wish to change at this point we will happily make as many alterations and changes as you require at no extra charge!
How will you make the ring to the correct finger size?
We post you a selection of ring size loops with the impression kit for you to try on and double check your size. They are very easy to use but if you need any advice please contact us.
How do I take an impression of my engagement ring?
It's a very simple process using a specially developed impression kit which is sent to you when you order. Full instructions are sent with the kit and the process takes less than 10 minutes complete. It really is very simple, however, should you have any questions when you receive your kit please feel free to contact us and we will happily talk you through it!
How much is the impression kit?
FREE! An impression kit and instructions are sent to you automatically when you place an order. There is no extra charge.
How do I return the impression kit to you?
A pre-paid, addressed envelope is provided with the impression kit. Simply put the completed impression into the envelope and put in a post box (UK only).
PLEASE DO NOT PUT YOUR ENGAGEMENT RING IN THIS ENVELOPE.
What happens if I don't like the computer design?
Just let us know what you don't like and what you would like changed. We will happily make as many amendments to the design as you require, FREE OF CHARGE! Nothing goes into final manufacture until you are 100% happy!
Why do you send me a 3D printed version of my shaped ring?
It is important to us that you are completely satisfied with the ring you have purchased from us. Part of this is ensuring that your bespoke wedding ring fits exactly how you want it to fit against your engagement ring. A 3D printed resin version is sent to you to enable you to place both rings next to each other to ensure a perfect fit. In the unlikely event you require any changes to the shape of the ring we will make these amendments FREE OF CHARGE and send you a new 3D printed version for your approval. On your approval your ring will proceed to final manufacture.
What happens if the shaped wedding ring doesn't fit my engagement ring once made?
The 3D printed version of your ring is an exact replica of the shape of your actual ring, we send you this to ensure the shape and fit is correct before manufacturing your final ring. However, in the unlikely event the finished product does not fit correctly we will happily make any adjustments completely FREE OF CHARGE, even if we need to remake the ring! If you still feel the ring does not fit properly we will refund 100% of your money without quibble, guaranteed!
How long does it take?
The process is three steps.
Step 1 is producing photorealistic computer images of your shaped ring next to your design of engagement ring. You usually receive these via email within 1 week of us receiving the ring impression.
Step 2 is 3D printing a resin replica of your shaped ring and sending it to you to check and confirm the shape. This is usually received within a few days of approving the computer design.
Step 3 is final manufacture of your shaped ring. This process usually takes around 3 weeks from your approval of the 3D resin replica.
The entire process from order to receipt of your shaped ring is usually around 4 weeks depending on speed of design approvals and amendments required.
I need a shaped ring urgently; do you offer an express service?
Yes. Please contact us with your requirements and the date you require the ring for.
What metals and diamond quality do you use?
We can manufacture any design you require from any of the metals listed below.
Platinum
22ct yellow gold (call for quotation)
18ct white gold
18ct yellow gold
18ct rose gold (call for quotation)
14ct white gold (call for quotation)
14ct yellow gold (call for quotation)
14ct rose gold (call for quotation)
9ct white gold
9ct yellow gold
9ct rose gold (call for quotation)
Palladium 950
Our standard diamond quality is F/G colour SI clarity. All our diamonds are ethically sourced and comply with the Kimberley process.
Where are the rings made?
All of our jewellery is made by our own jewellers in our workshop in Southampton, UK.
Will my ring have a hallmark?
Absolutely! All our jewellery carries a British hallmark.
Do you make anything other than rings?
Yes, whilst we have found a niche in manufacturing shaped rings we can manufacture any jewellery you require. Please contact us if you would like a quotation for a bespoke commission.
What does the lifetime guarantee cover?
Why do high street stores only give a 1 year guarantee on a product they know their customer is going to wear it every day forever?! With this is mind we place quality at the centre of everything we do and put a lifetime guarantee against any manufacturing flaws. As long as you own the ring, we guarantee our workmanship. Loss or accidental damage is not covered by this guarantee.
What aftersales services do you offer?
As manufactures with a well equipped workshop and team of full time jewellers we can offer a broader range of services than you often find on the high street.
Ring sizing, Engagement ring refurbishments, General repairs, Bespoke commissions and much more.
Please contact us should you require any post sale services.
What delivery methods are used?
Impression kits are sent using Royal Mail First Class post (UK only). The finished ring will be delivered using Royal Mail Special Delivery (signed for and insured) in the UK and FedEx/TNT/UPS internationally (signed for and insured).
shapedrings.com will reimburse the carriage costs of any item needing to be returned due to error by the company or product damage/flaw upon receipt.
Can you deliver outside the UK?
Yes. The cost of the product remains the same as quoted on our website but there will be an additional charge to cover the cost of delivery. Please contact us for a quotation prior to ordering. Purchasers from outside the UK are liable for any import taxes or fees due in the country the product is being sent to.
How can I pay?
We accept payments from all major credit and debit cards through the payment portal on our website.
Is the price I pay online the price I pay or are there extras?
There are no hidden charges. The price you see is the price you pay. The only time the price may increase or decrease is if you choose to adjust the design from that originally ordered, but this is rare. Your consent will always be sort if the price needs to be adjusted up or down because you have requested a design change.
What do I do if the ring is wrong finger size?
If the finger size of your shaped ring needs to be adjusted, we will resize your ring and return it to you FREE OF CHARGE within 3 months of you receiving the ring (UK only). There is no charge to international customers within three months for sizing but a delivery charge will be incurred. International customers please contact us for a quotation prior to returning your ring.
How does your price promise work?
We are so confident that you will not find your shaped ring cheaper elsewhere that we will refund the difference of any genuine like for like quotation providing written evidence of the quotation is supplied to shapedrings.com within 14 days of purchase.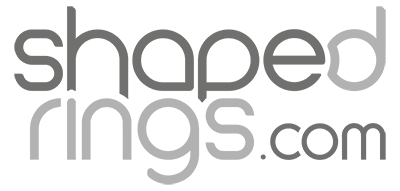 Let's Shape a Ring For You